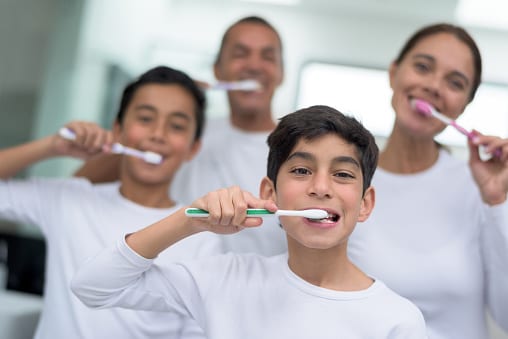 It's essential to upkeep good dental health, and as we've all come to know, essentially this begins early on with creating good habits and patterns.
So in today's Penrith dental blog, we will be covering creating and facilitating good oral care habits for your children.
When we're introducing such practices and habits to our children, it's essential to keep in mind positive attitudes can facilitate the process and will also allow your child to associate positive memories when caring for their oral health, and is a great foundation to set in place for when they are old enough to do such things independently.
Necessary steps to promote good oral health care are:
Having a balanced diet
Eating foods that promote good oral health (which are discussed in our previous blog; 'Nutrition
and it impacts on your oral health')
Brushing at least twice daily
Regular flossing
Visiting the dentist regularly for check-ups
Limiting your intake of sugar
Here at Tindale Dental Centre, each of our Penrith Dentists are experienced and highly dedicated to providing comprehensive dental care to all our patients. We strongly believe that habits developed during childhood years can establish a pattern for the rest of the person's life.
We pride ourselves on our commitment to providing you and your family with safe, gentle and state-of-the-art dental care. At Tindale Dental Centre in Penrith, we're proud of the quality of dental care that we offer our patients and welcome new patients to Tindale Dental Centre to share this level of care.
We are dedicated to the patients of Penrith and surrounding suburbs including:  Blaxland, Cambridge Gardens, Claremont Meadows, Emu Plains, Glenbrook, Glenmore Park, Kingswood, Leonay, Mulgoa, South Penrith and Werrington, Jordon Springs, Regentville, Orchard Hills, Castlereagh, Waterside Estate, Mulgoa Rise, Glenmore Ridge.
We look forward to meeting you!