The dentists at Tindale Dental Centre have a deep commitment to providing our patients with the highest level of dental care by utilising the latest techniques and technology. We have the latest in digital imaging techniques, including on-site OPG which assist in  identifying  your dental needs and refining  your treatment plan.
To carry out treatment we will have the aid of WaterLase laser, the latest Sirolase a Microscope (for intricate procedures) as well as 3D CAD/CAM imaging cameras making CEREC porcelain restorations.
DIGITAL IMPRESSIONS
3Shape TRIOS, more than just an intra oral scanner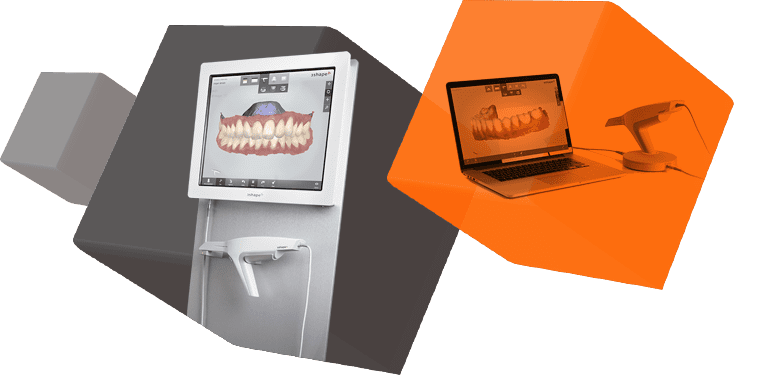 TRIOS® benefits for patients
TRIOS is more than just another intra-oral scanner for capturing a 3D representation of your teeth. It is a complete digital impression solution providing your dentist with the ability to capture accurate and highly detailed full colour digital impressions.
As a patient you will have minimal to no discomfort and receive a high quality restoration fit. It also reduces the amount of time spent in the dentist chair.
Single Visit Dentistry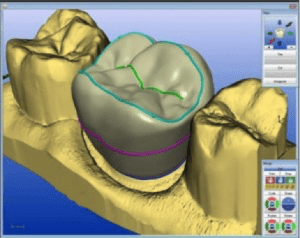 Our in-house computer technology allows us to design and create highly aesthetic and very durable one-visit crowns and porcelain inlays/onlays. This allows our dentisits to  conserve and protect healthy tooth structure. With our CAD/CAM computer technology there are no second visits, no second injections, and no temporaries.
CERAMIC SAME DAY RESTORATIONS
CEREC SAME DAY INLAYS/ONLAYS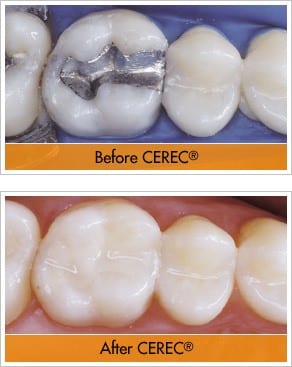 At Tindale Dental Centre we believe in utilising the latest techniques to give our patients' teeth the most aesthetic and least destructive restorative solutions.
We can replace old metallic fillings when this is required with either the more aesthetic composite resin restorations (fillings) or if more tooth structure has been lost then we can offer our patients the aesthetic and biocompatible all porcelain restorations.
These restorations are imaged using CADCAM technology and milled on premises so that they  to be bonded onto the tooth at the same visit.
Often more of the tooth has been lost or the tooth has been cracked and a more substantial long term restorative solution is required. If this has happened we are able to offer our patients the latest in crown technology.
We offer our patients both the highly biocompatible full porcelain crowns .
CEREC SAME DAY CROWNS
Discover the Benefits of CEREC Crowns in Penrith NSW
We can now offer tooth restorations and crowns that look, feel and function just like natural teeth. We can provide this treatment in one visit, confident of both the quality and the longevity of these restorations.
Chipped, broken, or damaged teeth typically require crowns, partial crowns, or some other kind of restoration work. And while it's important to treat these conditions, most people would rather not have to undergo the multiple dental visits normally required to get the work done. But now, thanks to our in-office laboratory, our Tindale Doctors can perform single tooth restorations in just one visit — and often in just one hour!
While the turnaround is short, the list of benefits is long: it's minimally invasive, preserves a maximum amount of natural tooth structure, and results in a stronger, natural looking, healthier tooth. How? This technology saves you tooth, time, money and can even prevent future emergency dentistry that may require crowns, root canals or extractions. Your dentist simply bonds the piece into place, resulting in a beautiful looking and feeling natural tooth. And because of the chair-side computer screen, your dentist can point out exactly what they are doing and why, so that the patient is entirely comfortable with the entire procedure.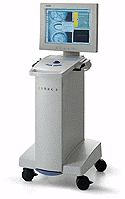 The dentists at Tindale Dental Centre offer a wide range of restorative dental treatments using the highest quality materials and latest in technology available.
CEREC by Sirona Dental Systems is the world's most trusted system for the fabrication of all ceramic dental restorations in one office visit. With CEREC at your dentist's side, you can be in and out in a single visit with a permanent, all ceramic crown, onlay or veneer! For you, the patient, this means fewer injections, less drilling and less time out of your hectic schedule for dental care. So, why are thousands of people worldwide choosing the CEREC restorative technique for their dental needs?
Single Appointment Dental Care
Most dental restorative methods require more than one visit to the dentist. This means that on the first visit, your tooth prepared, an impression taken, and a temporary restoration put on your tooth. You make a second appointment for a couple of weeks later and have a permanent restoration put on.
With CEREC, the procedure is done in a single appointment, start to finish.
CEREC provides outstanding benefits to patients. Just a few advantages include:
Restoration wear resistance and durability equal to that of natural tooth substance
• Protecting and preserving natural tooth structure
• Visually appealing and blending with your natural teeth
There is no need for impression taking or unnecessary reduction of healthy tooth structure.
You can watch your dentist design your new restoration on a computer screen, right beside the dental chair using the 3D image software. The virtual restoration/crown is then transferred into reality using the CEREC and a solid block of porcelain is automatically machined to exactly match the computer model. The perfect fit restoration is completed and placed in your mouth with the whole process taking place in one visit!
Finest Dental Materials
A CEREC tooth restoration isn't just convenient, it is also healthy. With CEREC, your dentist can use strong, tooth coloured ceramic materials to restore your teeth to their natural strength, beauty, and function. These materials closely match the composition of natural tooth structure. This means when you eat hot food and then drink something cold, the restoration and tooth expand and contract at almost equal rates. So, your tooth does not crack, and you can go on enjoying your evening. Also, the materials are chemically bonded to your tooth, so your dentist can save as much healthy tooth tissue as possible while providing you with a dental restoration that strengthens your tooth.
DIAGNOcam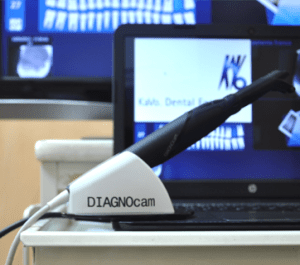 The DIAGNOcam is a new exciting diagnostic device from the German company KAVO.
How does it work?
DIAGNOcam uses Digital Imaging Fiberoptic Transillumination (DIFOTI) technology. This means the structures of the tooth become light conductors. A digital video camera captures the context and transmits to a live monitor. Carious lesions, dental decay and cracks block the light transmission and become visible as dark spots.
This is radiation-free and can be repeated as required.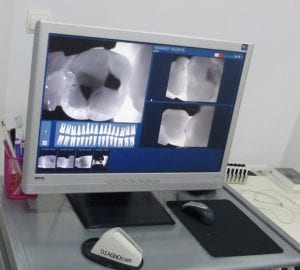 DIAGNOcam is a convenient way to verify and supplement your X-ray diagnosis.
The DIAGNOcam can detect details that are normally invisible to the human eye, such as early dental cavities or decay underneath existing fillings.
This method is very useful in intercepting problems before they become too complex. This is essential in modern preventative and minimally invasive dental practice.
DIGITAL DENTAL X-RAYS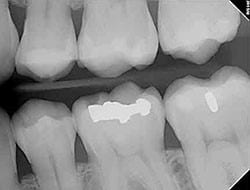 Using the most advanced dental technology possible is just as important as staying up-to-date on the latest treatment techniques.
At Tindale Dental Centre we only use digital X-rays. This latest technology maximises image quality whilst minimising patient exposure to radiation. We are dedicated to providing you with the safest and most convenient treatment options available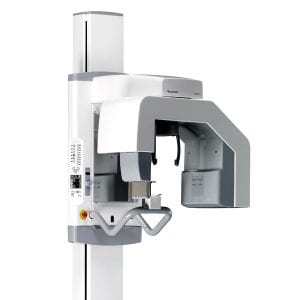 One of the most advanced radiograph technologies available is an OPG (full mouth X-ray). While you stand, your chin rests comfortably on a shelf so your head remains stable. The OPG machine then moves around your face in a semi-circular motion. The image is immediately available and stored in our software. What is produced is a highly detailed panoramic image of your teeth, gums and facial bones structure, which is invaluable for planning your treatment.
This is the gold standard in patient treatment and radiation safety.