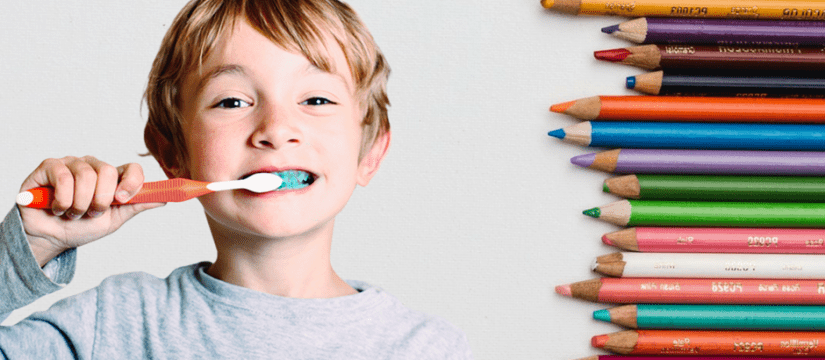 It's the beginning of 2018, and you know what that means: it won't be long before the kids have to get back to school and out of your hair.
Before they get on the bus or you drop them off, make their way to class and hit the books, think about the best way for them to start the new year off, with a smile.
As a parent you want them to have the best start in their education and their health. An easy way to keep them healthy is a trip to the dentist for their six monthly check-up and some tips to keep them brushing and cleaning all year round.
Great habits start here
The best hygiene comes from the best habits, and these take time to form. We learn about how to brush our teeth twice a day from our parents, so it's important to send that message through to the kids early on.
Equally important is the amount of time they brush, with dentists suggesting a minimum of two minutes, something most people find hard to match, possibly because we're all trying to get it done as quickly as possible to get on with life. You could stand behind your child, looking at your watch, but let's be honest that will only end in tears! You could set a timer on your smartphone, but that could be slightly tedious.
Your teeth are tools for life and shouldn't be rushed, by making brushing your teeth fun is the ideal way of getting into this habit, so put on a song that lasts at least two minutes and brush to the sound of the song. Randy Newman's "You've Got a Friend in Me" from Toy Story or The Beach Boys' "Surfin' Safari" both hit the two minute mark and provide a solid two minutes of brushing time.
Music Apps can find you a playlist of two minute songs and there are even Apps for "Songs to brush your teeth to", so get online and brush up with your favourite tunes.
The sweetest thing
Once the brushing habit is dealt with, it's time to go straight for the hard one: cutting back on things we know are not kind to our teeth: lollies, sweets, cakes, and fizzy drinks. Every so often is fine, but every day is a bad idea, because nothing quite makes a dent on oral health in the way excess sugar does.
Why is sugar so bad for our teeth? Tooth decay is caused by bacteria that feed on sugars from food and drinks. The bacteria which your dentist calls "plaque" sticks to your teeth, producing acid that chips away at the enamel on your teeth.
Choose your kid's lunchbox food wisely by checking nutritional labels for sugar content. Also remember some healthy foods are not the dentist's best friend either, dried fruits contain concentrated sugars and can stick to your teeth, while juice can sometimes contain more sugar than fizzy drinks.
We know we need to visit the dentist every six months for a check-up and clean, to reduce additional trips for tooth decay and cavities, so carefully consider what goes in the school lunchbox.
A sporting chance
The school year is just beginning, there's a good chance your kids will be joining the netball, football or basketball teams, and that means contact with either the ground or another player is possible.
To protect those pearly whites from sporting injuries, ask us dentist about a customised sports mouthguard, giving your kids the best chance that their teeth will be protected on the field, resisting impact from a ball or something else doing serious dental damage.
A clean bill of health
Without a doubt, the best way to start the year is with a clean bill of health, and much like how a perfect score at your local doctor makes you feel good enough to take on the world, so too does the feeling when your dentist tells you that your teeth are in tip-top shape and ready for you to go out and smile at the world.
Dental check-up and cleans for you and your children should be performed every six months to make sure your teeth stay pristine and perfect all the way through the year and the rest of your life, so making an appointment at the beginning of the year not only gets them in the habit of a regular check-up, it also reminds you both to get teeth seen to now and later.
Start by booking an appointment today for the beginning of the school year and mid-year, ensuring the teeth of your family get the best of oral hygiene habits for the year to come.