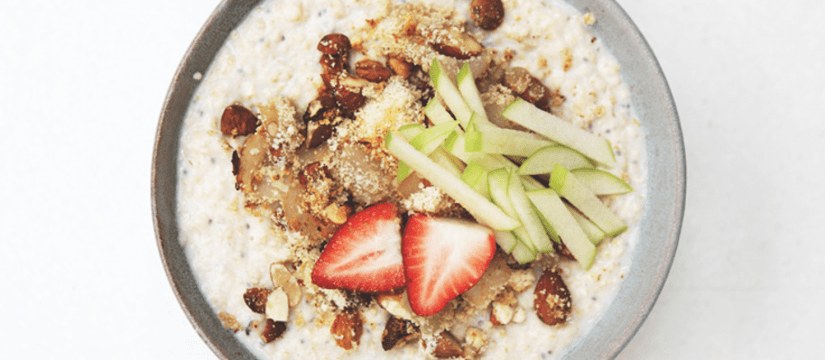 "This Apple Crumble Porridge will shake up the way you wake up!
What better way is to start a cold winters day than with a big ol' bowl of soul warming porridge?
Porridge is nutritious & will keep you going till lunch, plus it's super-simple to customise to keep things interesting. Have fun with your combos!
Apple Crumble Porridge
1/3 cup oats
1 apple peeled (half grated, half diced)
1/2 cup water
2 teaspoon cinnamon
2 tablespoon raw honey
2 tablespoon coconut cream
1/4 cup chopped dates
2 tablespoon almonds (chopped)
1 tablespoon almond meal
1-2 strawberries
Add the diced apple, water and cinnamon to a saucepan and simmer until apple is soft.
Transfer to a ramekin with chopped almonds, almond meal and honey and bake in a 180C/350F oven for 15 minutes or until almond meal starts to brown and apple bubble.
While that's cooking, make the porridge base, and add in grated apple – stir until mixture thickens (about 5 minutes). Stir in coconut cream and chopped dates and cook for another 2 minutes.
Add crumble to the top of your porridge and drizzle with more honey if required. Top with fresh apple slices and strawberry (optional). Yum!