At Tindale Dental Centre we believe that we are a practice that offers the highest quality dental treatment. We place the patients at the centre of all that we do. Modern advances in dental implants means that we can provide a viable long term solution to replacing your missing teeth.
Now patients who are missing teeth have a strong, beautiful alternative to bridges, partials, or full dentures. Tindale Dental Implants will improve your smile and your lifestyle. They look, feel, and function like natural teeth because of a titanium anchor attached to the jawbone. Dental Implants" can also anchor bridges, partials, or full dentures to eliminate slipping.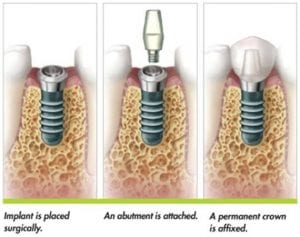 Implants require adequate bone structure for placement. The first stage of the procedure involves oral surgery in which a titanium post is implanted into the jawbone for each missing tooth or for the new teeth that will anchor a bridge or denture. Nature will take its course, allowing your bone tissue to fuse with the titanium post. This creates a solid foundation.
After a thorough evaluation, Dr Trinh can tell you whether you're a candidate for dental implants. We need to take X-rays, photos, and records to determine your bone density and level of oral health. Dr Trinh will also want to discuss your goals and expectations so that we can deliver the best results for your unique situation.
Dr Alan Trinh then will design a specific treatment plan for your case. This includes an outline of the number of visits and all associated costs. Dr Trinh understands that commencing a course of dental implant treatment is a significant commitment. Our entire practice is focused on always achieving the best treatment outcomes.
We appreciate you as a patient and welcome any questions or concerns that you may have regarding your dental implant treatment or other dental services.
Once the implants are secured, Dr Trinh will attach a handcrafted, permanent crown to each post. The restorations will match your natural teeth and blend seamlessly with your smile.
By imitating an entire natural tooth, from the root up, dental implants offer a prosthetic that closely mimics nature. The result? Dental implant patients enjoy restored function, which allows a healthy diet of hard-to-chew foods. Speech may also improve. Strong and secure, your new smile will boost your confidence, enhance your appearance, and improve your quality of life.
To get started, call today and schedule your dental implant consultation with Dr. Trinh.
Tindale Dental Centre Single Tooth Implant Treatment Fees Summary
Type
Item Code
FEE (GST Exempt)
Initial treatment consultation
015, 037
$185.00
Surgical guide issued
679,071×2
$350.00
2nd consult-final treatment plan determined
015
$97.50
Initial implant placement
684, 236/244, 022 x3
$2612.50
Second implant surgery
691, 022
$652.50
Placement of Abutment prior to restoration
661, 022 x2
$695.00
Cementation of Final Crown
672
$1600.00
Approx Total
$6192.50
Important: Prices are based on an indicative case senario and are meant only as a guide. Often patients may require bone grafting. Dr Trinh will individually assess your implant requirements and tailor a quote specific for your individual case.